This plugin collects information when a page receives utm parameters.
When a page is accessed and if at least one utm parameter is passed (e.g. utm_source, utm_medium)
that info will be saved in a session along with some more info.
Later when the user fills out any form that uses wp_mail function
the collected utm data will be appended to the email's content.
The main benefit is that you'll know where the user came from and which pages he/she visited
before filling out the form.
Demo
https://www.youtube.com/watch?v=8ATJbzXeeuQ&feature=youtu.be
Screenshots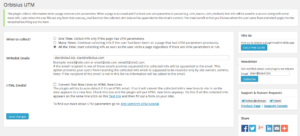 You can buy this plugin or become a
Premium Member
and get access to all current and future plugins we release at a low monthly/yearly cost. For more info check
Plans
page.
Referral Note: When you purchase through an referral link (if any) on this page, we may earn a commission.