This WooCommerce extension allows you to bulk change the prices change product prices (up/down) for all products or for a selected category and its subcategories.
Benefits
The plugin allows you (temporarily*) change product prices (up/down) of all products or for products that belong to a specific category and its subcategories.
The price change can be by a specific amount or a percentage.
The plugin will NOT apply price change in the WordPress admin area so you can see the actual price unmodified.
Less risk of than updating the price directly.
* While the plugin is active & enabled
Demo
The Settings of the plugin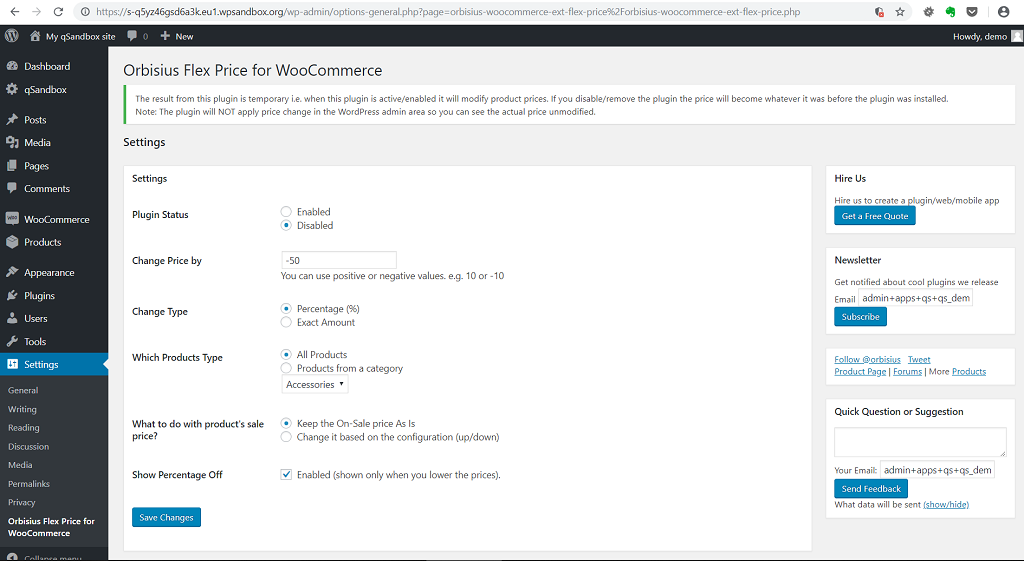 The plugin shows the reduced price in the admin area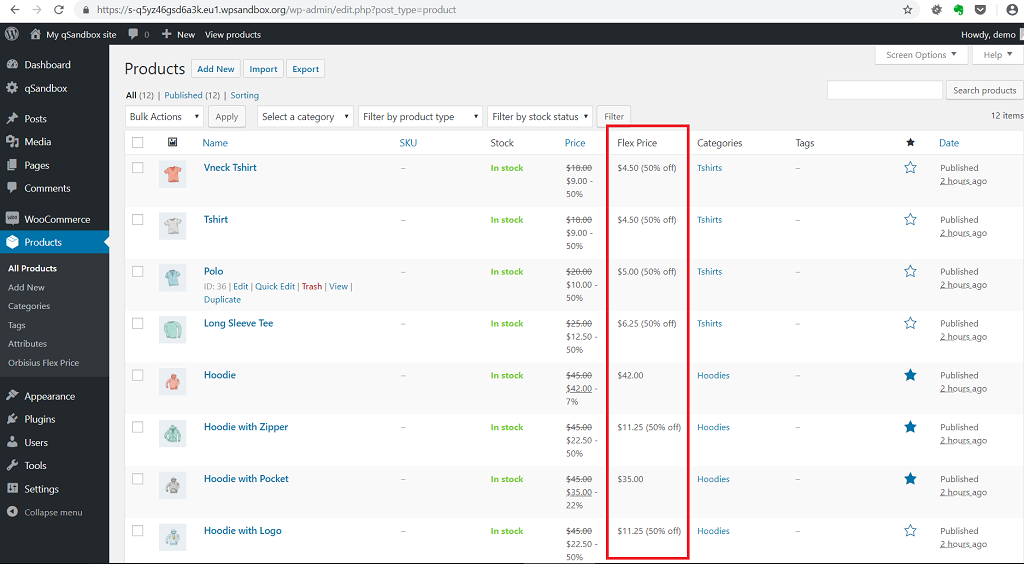 Purchase
https://orbisius.com/store/product/orbisius-woocommerce-ext-flex-price/
Keywords/phrases
This plugin allows you to change woocommerce prices at the same time....
how to change woocommerce pricing for all products at once
woocommerce dynamic pricing
== Changelog ==
= 1.0.4 =
* Fixed weird redirect loop due to a recursion. The plugin -> req Woo Price -> Woo calls filter get_price and from start again.
* Fixed the error message shown when WooCommerce is not active or installed.
= 1.0.3 =
* Fixed: Errors were showing up if no product category was selected.
= 1.0.2 =
* Added functionality to change sale price even more (see plugin's settings).
* Added uninstall.php file to clean up after outselves
* Improved the right sidebar in the plugin's settings page.
* Fixes and improvements.
= 1.0.1 =
* Cleaned up code and fixed Saved. message when saving options under Products
* Added percentage off from the sale price thanks to LogoLogics for ideas and code.
= 1.0.0 =
* Initial release