Orbisius Child Theme Creator Pro is a premium addon which adds extra functionality to Orbisius Child Theme Creator plugin.
The addon replaces the double editors with an improved editors which have code highlighting capabilities.
It also makes the use of the dropdowns a lot easier as you can type to find the file name you want to edit.
Note: as we add new features the price of the plugin will go up.
https://www.youtube.com/watch?v=wZosJYKcXPI&feature=youtu.be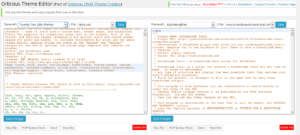 You can buy this plugin or become a
Premium Member
and get access to all current and future plugins we release at a low monthly/yearly cost. For more info check
Plans
page.